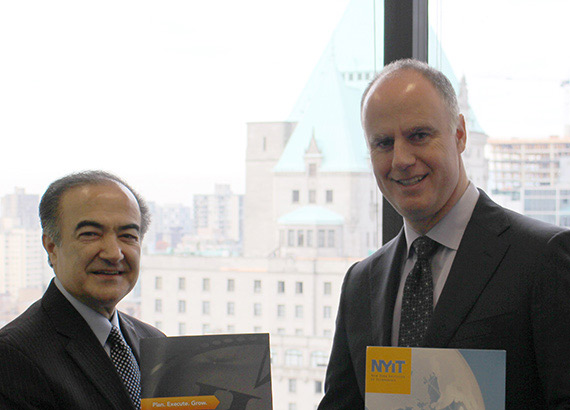 New York, N.Y. (4 Dec. 2014) – NYIT Provost and Vice President for Academic Affairs Rahmat Shoureshi, Ph.D., and Mark Wardell, President and CEO of international business consultancy Wardell International, based in Vancouver, B.C., have signed an agreement to work together in areas of mutual interest, including training activities, software, business projects, and internship opportunities for NYIT students.
---
NYIT-Vancouver specializes in master's level professional education, offering degrees in business administration (M.B.A.) and computer security (M.S.). Established in 1999, Wardell International helps clients throughout the world to plan and achieve stable business growth.
"We are very pleased to partner with Wardell International in our continuing efforts to engage with Vancouver's business community," said Shoureshi. Mr. Wardell stated, "We see many opportunities to help NYIT achieve the goal of connecting more directly with business and industry. We are committed to help build the bridge between education and business, especially in the crucially important Small and Medium Enterprise (SME) sector in Vancouver and beyond."
The agreement includes clauses related to practicums and internships for NYIT students, sharing of office and classroom space and software resources, and other initiatives.
About NYIT
New York Institute of Technology (NYIT) offers 90 degree programs, including undergraduate, graduate, and professional degrees, in more than 50 fields of study, including architecture and design; arts and sciences; education; engineering and computing sciences; health professions; management; and osteopathic medicine. A non-profit independent, private institution of higher education, NYIT has more than 12,000 students attending campuses on Long Island and Manhattan in New York; in Nanjing, China; in Abu Dhabi, U.A.E.; in Vancouver, Canada; at other global partner universities; and online.
Led by President Edward Guiliano, NYIT is guided by its mission to provide career-oriented professional education, offer access to opportunity to all qualified students, and support applications-oriented research that benefits the larger world. To date, nearly 100,000 graduates have received degrees from NYIT. For more information, visit nyit.edu.
Source: www.nyit.edu