Rachel Mendleson has put together an excellent article for the Huffington Post.
Of note is Canada's shift towards oil, gas and mining as a key driver of the economy.
The chart below (via Huffington) shows the decline of manufacturing as a percent of GDP and the increase of the natural resource sector over an 11 year period.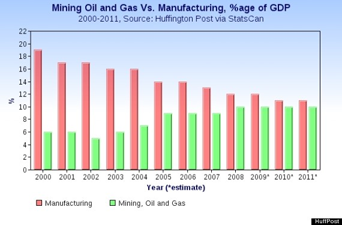 So is this a bad thing?
Too many eggs in one basket?
Doom and gloom?
No.
Business is simply going where Business goes.
As the US continues it's economic sputter, China has become a source of real opportunity.
Working with private business across the world, we see this situation Canada faces reflected in individual businesses again and again. Do I follow the money trail? Do I stay with what has brought us this far?
The answer is usually a diversified approach.
Completely abandoning a product or even a strategic direction may make sense in some cases, but many times a mixed approach of retaining a company's history, customer base and core while pursuing a new opportunity is the best recipe.
To read more about Canada's shifting direction read the full article from the Huffinton Post here.
To analyze your own business strength take the Wardell Business Strength Test. (free, online and private)